Services for tenants
Welcome to information about our services for tenants. You can find out what services and opportunities are available to you as a tenant, as well as information about our service standards and practical information such as how to pay your rent.
Tenant news and updates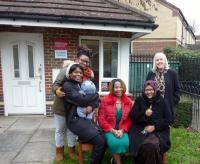 The residents of our Jack Ashley Court scheme and Moira Close in north London were treated to brand new benches in January 2019. The commemorative benches, were donated by Bell Decorating Group, our long term friend and preferred supplier for painting and decorating.
Read more on New benches for two Habinteg s…