Habinteg and Peabody welcomes Japanese delegation to Lifetime Homes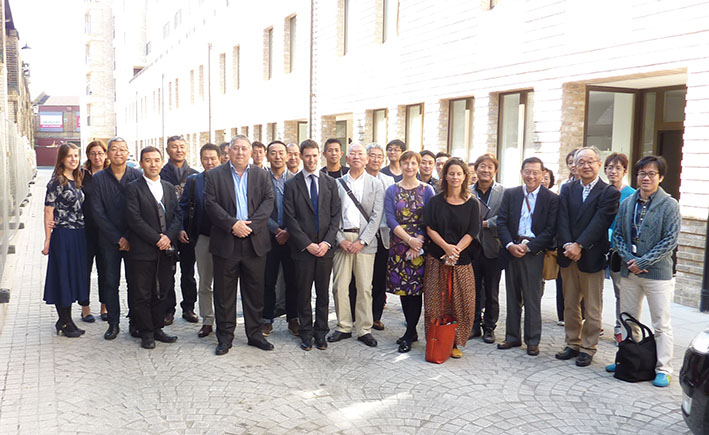 Habinteg and one of London's oldest housing associations, Peabody, recently welcomed a delegation of Japanese housing experts to visit an award winning example of Lifetime Homes standard development.
The delegates from a variety of housing-related industries came to Peabody's Silchester development after they requested to find out more about Lifetime Homes. Habinteg, the accessible housing champion, were able to share our expertise and experience in the design and implementation of the standard. In London, currently all homes must be built to the accessible Lifetime Homes standard with 10 per cent to a higher wheelchair accessible standard.
Peabody's Assistant Director of Delivery, Jake Brodetsky said:
"Peabody is delighted to have been able to share our best practice and experience of developing the Lifetime Homes Standard with international colleagues.
"We are extremely proud of the high quality new homes of all tenures at our Silchester development. We have a pipeline of 8,000 new homes to meet the urgent housing need in London – these homes will all meet the Lifetime Homes Standard, which is crucial in ensuring that we meet both the current and future needs of those who we house."
Habinteg's Chief Executive, Paul Gamble said:
"The Japanese delegation made it a priority of their visit to the UK to see accessible, inclusive and easily adaptable housing. Lifetime Homes Standard properties offer the best examples and London leads the way ensuring all new homes built in the Capital meet these design criteria.
"It's great to be able to share these ideas with international visitors – we hope the visit inspires ideas for the design of inclusive new housing back in Japan. Our thanks go to Peabody for demonstrating their high quality new homes"
President of Shimizu Architects, Hideo Shimizu said:
"In Japan, 6 times more people have died in their own houses due to either accidents or sudden illness than people are killed in car accidents.
"Therefore it is critical for the housing sector to improve safety in houses in general."
The Silchester scheme is designed by RIBA award winning architects, Haworth Tompkins and is based around a new communal garden that will be available to all the residents of the new scheme as well as those who live in the tower block.
Lifetime Homes was developed in the early 1990s by a group of housing experts including Habinteg. Lifetime Homes are ordinary homes incorporating 16 Design Criteria that can be universally applied to new homes at minimal cost.